Inspired Business Meetings
Our outdoor setting and indoor decor bring ample inspiration and refinement to any business affair. For large corporate meetings and grand receptions, Jasper Boardroom and the 2,300-square-foot Sky Ballroom offer numerous configurations, while the the Jacinto or Parlor rooms are ideal for a breakout session or intimate company retreat. For unlimited fresh air and ease, take your event to Jacinto, our rooftop event room and outdoor terrace, where exquisite views of the desert and mountains provide an unforgettable backdrop to any undertaking. For catering, celebrated Executive Chef Stephen Wambach of our restaurant, 4 Saints, only provides further delights with innovative dishes created from fresh, seasonal ingredients. For a truly seamless experience, make use of our top-of-the-line audio-visual equipment; our professional support team is always on hand to help. With all of our staff, expect thoughtful, personalized care, from the planning stages to the impactful conclusion.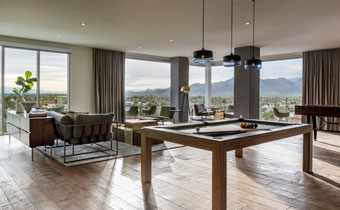 Multimedia
Enhance your event with top-notch technology and A/V equipment. Our knowledgeable on-site support team is always quietly standing by to lend a hand.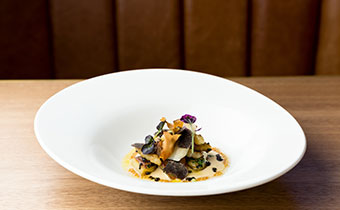 Food + Drink
Reward all that hard work with delicious, seasonal, Mediterranean-inspired cuisine prepared by our talented culinary team at 4 Saints. Our beverage menu features classic cocktails with creative twists, California vintner gems and local craft brews.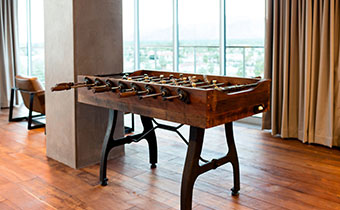 Floor Plans
Whether you're here to work or to play, check out our unique on-property spaces to host your next event at.