ADA Accessible Hotel Rooms
Kimpton Rowan Palm Springs Hotel accommodates guests with disabilities. Please feel free to look at the details below to see how we can meet your needs.
If you have questions or wish to make a reservation, you can click here to book online or call our Reservation Specialist at 1-800-532-7320 or email accessible@kimptonhotels.com.
Queen Queen Deluxe Accessible
364 square feet
2 Queen beds
Accessible roll-in shower or tub and grab rails
Opening windows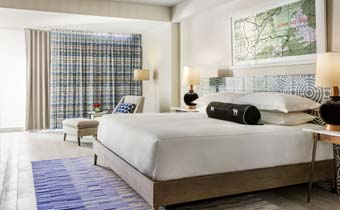 King Executive Accessible Roll In Shower
419-25 square feet
1 King bed
Accessible roll-in shower
Opening windows
Resort Fee:
An additional $35 (plus tax) resort fee will be added per room each night of your stay. This fee includes daily valet parking, rooftop pool access, complimentary wi-fi, fitness center access, PUBLIC bikes. View all of the unique services and amenities included at Kimpton Rowan Palm Springs.